Introducing the ComfortAdjust Pillow!
The ComfortAdjust Pillow is the only adjustable pillow designed to reduce the damaging effects to your neck and posture caused by technology use - just by sleeping on it every night!
The ComfortAdjust Pillow is the first and only pillow with an adjustable, patent-pending Alignment Core (neck support roll) that can be rotated to find your optimum blend of comfort and support.
Fitting seamlessly inside a premium memory foam pillow, the Alignment Core works to align, adjust, and relieve strain to give you back a much-needed full night's rest.
A New Epidemic
If you're reading this while looking down at your phone, tablet or computer, you probably already suffer from Tech Neck.
Tech Neck is the chronic pain in the neck caused by the forward head posture formed from overuse of technology. It's being called an epidemic!
Simply put: our muscles, ligaments and spine are not designed to support our 10 pound head in a constant forward position.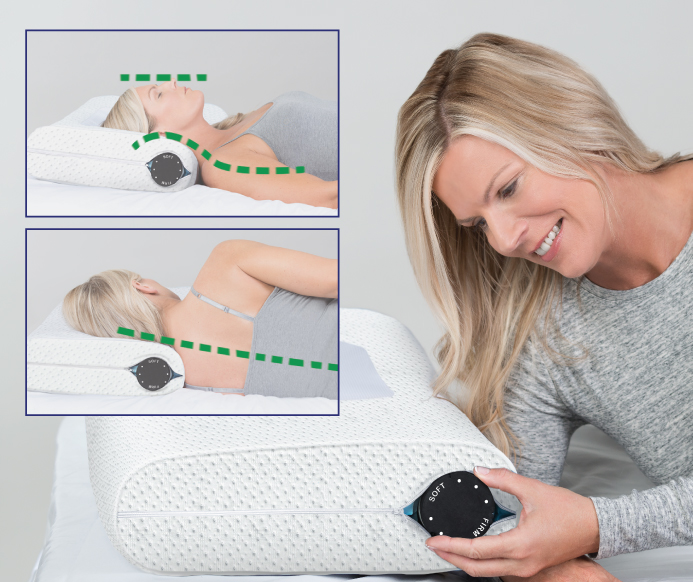 The ComfortAdjust Pillow is different than any other pillow on the market.
Premium memory foam pillow cradles the head and neck comfortably while maintaining the perfect dimensions for back and side sleepers. While every other pillow on the market loses support during the night, our Alignment Core provides optimal support night after night.
All you have to do is choose your level of comfort and support with the turn of a dial!
Medical studies have proven the benefit neck alignment has on overall wellness.
When your neck is properly supported, circulation is improved, muscles are relaxed, and breathing is unobstructed. All of these benefits reduce pain and promote better sleep.
And better sleep makes a healthier and happier you!
We tested the ComfortAdjust Pillow against the top-selling interlocking fill pillow using an Xsensor X3 Medical Version 5.0 pressure imaging system. We tested each pillow with the same person, on the same mattress, and in the back-lying position.
The results speak for themselves! Medical imaging proves that only ComfortAdjust Pillow provides full neck support (see white arrow).
Reviews
We're taking on poor sleep and neck pain one well-rested and properly aligned consumer at a time.
We'd love to hear about your experience with the ComfortAdjust Pillow! Please send us a message and let us know what you think!
LYNNM23 WRITES:
"This pillow has helped to get rid of my pain. I used to wake up with a sore neck and neck spasms but since sleeping on this pillow, my neck feels so much better. Makes the day more pleasant."
Lesliehh WRITES:
" I was very excited for my comfort adjust pillow to arrive as my prior neck support pillow (not memory foam) was on its last legs. I am a back and side sleeper and I use the firm setting on the pillow- it supports my neck w/ out feeling too firm and the level and quality of the foam pillow really supports my head as well. The foam seems to be of much higher quality and better support than a well known brand memory foam pillow I have used. The pillow is not "hot" - as some foam pillows can be. I truly have been sleeping very soundly and waking up feeling rested and without a kinky neck since the day it arrived. I would highly recommend this pillow. "
GRACIET WRITES:
"I have had chronic neck pain for years. I normally awake in the morning with neck pain and have to take over-the-counter medication to alleviate the pain. After sleeping and adjusting the pillow, my pain In the morning has been greatly reduced and I no longer need to take Tylenol / Ibuprofen in the morning. It is a game changer in my life!"
RLC305 WRITES:
" I started looking for a flat foam pillow with neck support after my wife said my snoring was getting worse. The foam pillow I used to have was angled steeply, causing my chin to tilt downward and contribute to my snoring and sleep apnea (stopped breathing). There was nothing on Amazon that fit the bill, but I saw this on QVC. After a week using this pillow, my wife says my snoring has lessened and she hasn't noticed any apnea. I had to experiment with different sides of the pillow because each way you turn it is slightly different (more or less firm, more or less of an angle in the neck). Really good product that I would recommend! "
The ComfortAdjust Pillow has been featured on: